March Sales!
Posted on: Tuesday, March 2nd, 2021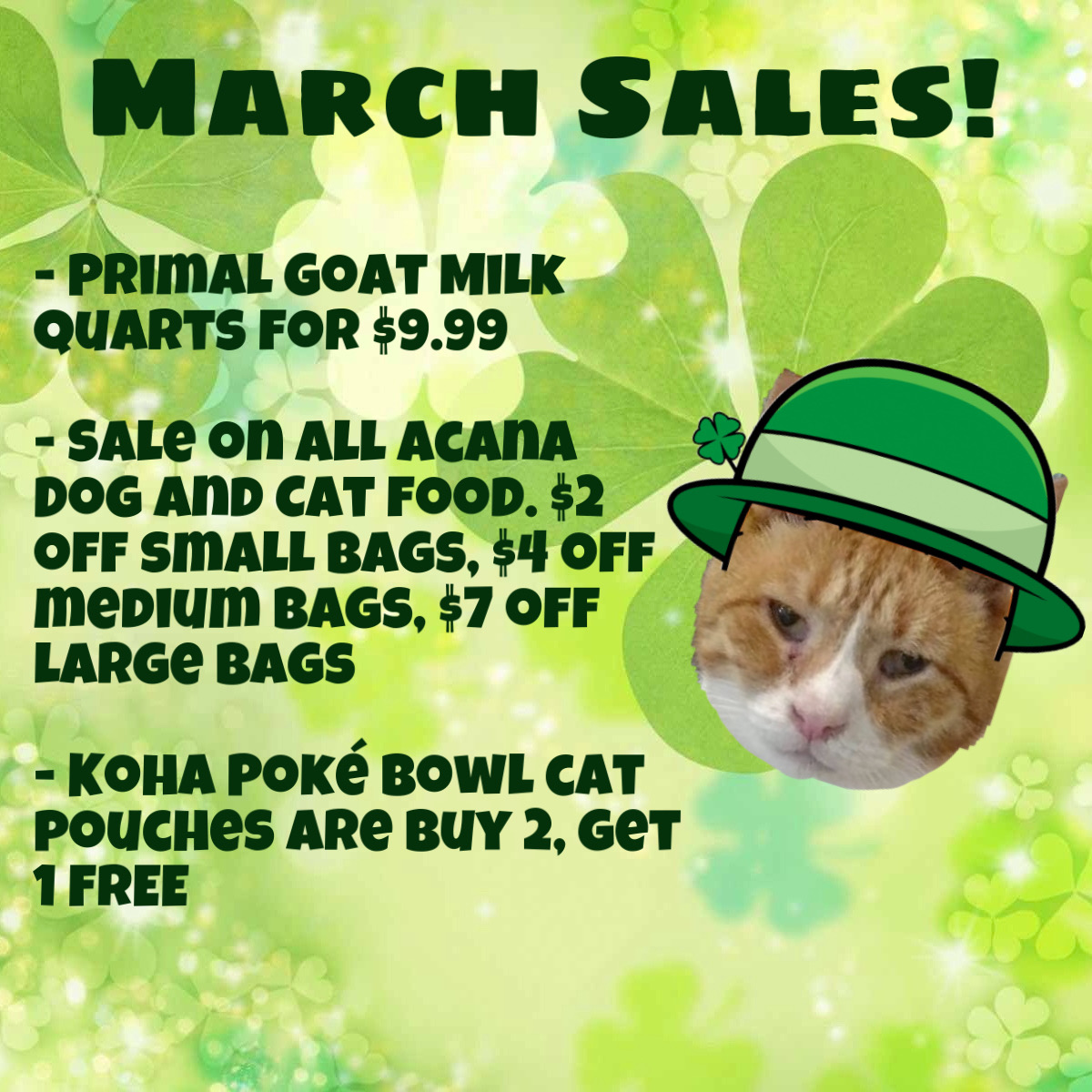 Happy March! We are excited to announce some amazing limited time deals. Try some new items before the month is over!
All quarts of Primal Goat Milk are on sale for $9.99! Goat's milk is a nutrient-rich hydration option that's packed with vitamins, minerals, electrolytes, and more—the "universal milk"! It is suitable for dogs or cats. Primal's milk features a blend of three beneficial microorganisms delivering 5 billion CFUs per ounces, including added probiotics for digestive support. It is an excellent source of moisture and is great as a treat or a way to rehydrate freeze-dried raw food. Primal's milk is sourced from certified humanely raised goats.
All Acana dog and cat food is on sale for the month of March! We are offering $2 off small-sized bags, $4 off medium-sized bags, and $7 off large-sized bags. Acana is an award-winning, biologically appropriate line of food. Your pet is an obligate carnivore, biologically requiring a diet that is rich in protein from whole animal ingredients. Acana recipes offer a variety of diets and flavors, brimming with protein and nutrients so your pet is getting everything they need to look and feel their best.
Lastly, we will be offering a deal on one of our new wet cat pouches — Koha Poke Bowls! All pouches will be buy 2, get 1 free! Even the most finicky eater will devour KOHA Poké Bowl tuna and protein combinations in gravy. With eight recipes to choose from, mealtime will never be boring! The moisture-rich texture of shredded and minced protein in a savory gravy provides the nutrients, high protein, and hydration imperative to your cat's health. All pouches are made without corn, grains, carrageenan, soy, potato, or artificial colors or preservatives.